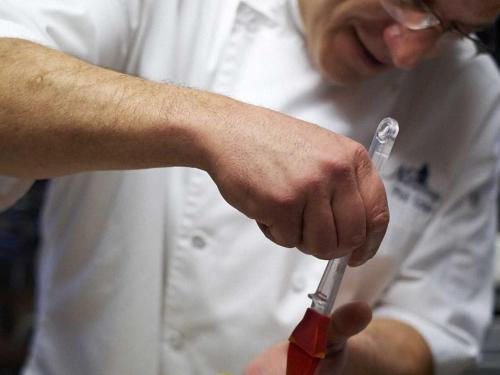 Chef Phil Crispo brings three decades (Yes, really that many!) of culinary and hospitality expertise to The Norumbega.
Before becoming an Innkeeper, he was an Associate Professor at the world-renown Culinary Institute of America in Hyde Park, NY for over eight years. His work at the CIA includes teaching a wide variety of courses to students as well as teaching professional chefs and consulting to global companies on food trends, flavors and international cuisines.
He is a winner on the Food Network show, "Chopped", where he beat the competition using ingredients that included a sports drink, ice cream cones and "city chicken" in "Thirsty for Victory". He also has developed several cooking videos and has appeared on multiple cooking segments on TV. His prior background includes running the Escoffier restaurant on the CIA campus in Hyde Park, owning and running his own restaurant in Dunkeld, Scotland (near Edinburgh) and earlier roles of increasing responsibility at several UK 'Country Inns' and catering events for senior executives and the British Royal Family. He 'cut his teeth' in the original Cipriani restaurant in NYC.